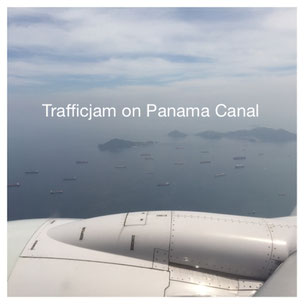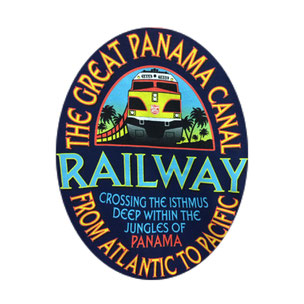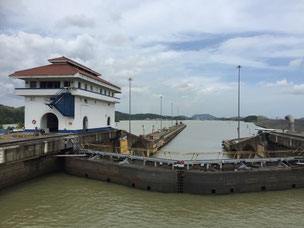 It is a one hour flight from San José to Panama City. As we are approaching the city, we are already able to get a glimpse of the Panama Canal. This Canal is the main reason for us visiting Panama as it is named to be one of the seven wonders of the modern world.
Panama City is the largest city in Panama and is home to almost half of the 3.9 million people living in Panama. With the help of the United States, Panama seceded from Colombia in 1903, in return the US were allowed to build the Panama Canal between 1904 and 1914. By the end of the 20th century, the United States had to transfer the Canal back to Panama.
The past presence of the US is still noticeable: it takes us more than 2 hours to pass immigration and the currency in Panama is still the USD.
As we are particularly interested in the Panama Canal, we have chosen our hotel right on the Canal. At all times, we see big containerships passing which is most impressive at night.
Our first intermezzo with the Canal is the great Panama Canal Railway. We take the bus to Colon - which is on the Carribean side of the Canal - hop on the train and enjoy the scenery and atmosphere along Lake Gatun and the Canal on our way back to Panama City. Lake Gatun is an artifical lake and part of the Canal; it is 26 metres above sea level. The Panama Canal Railway was very important for the successful construction of the Panama Canal which was opened in August 1914. Annual traffic is nowadays up to more than 14'000 vessels. The largest ships that can transit the canal today are called Panamax. It takes 6 to 8 hours to pass through the Panama Canal.
On Saturdays, it is possible to do a half way transit by ship; we surely want to do this. We pass three locks together with the containership Mare Tracer. The most famous locks on our passage are probably the Miraflores Locks where vessels are lifted (or lowered) 16.5 metres in two stages. It takes us severeal hours to do the half way transit but it is very interesting and a 'once in a lifetime' experience.
Panama City itself is a city like most other big cities in the world. The historic quarter with its colonial houses is quite picturesque and the 'Ceviche' at Panama's wharf was the best raw fish we have had so far.
After five days we leave Panama and head to Peru.