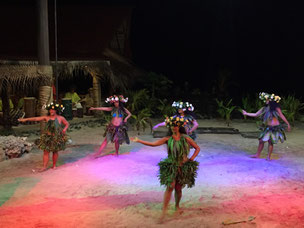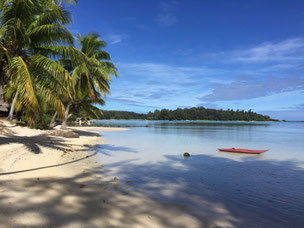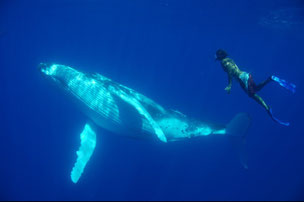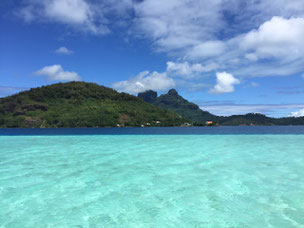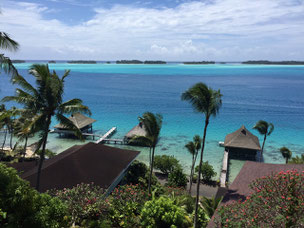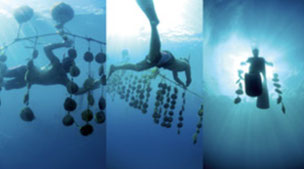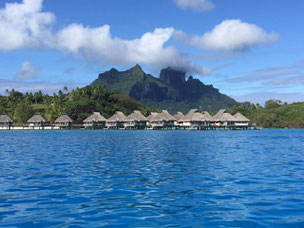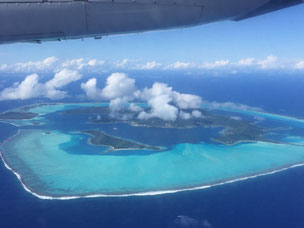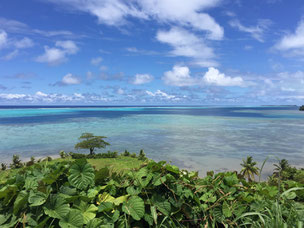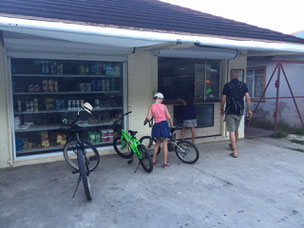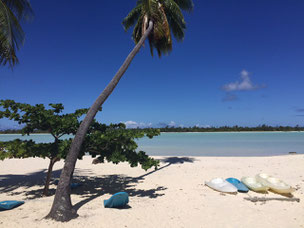 Ici, on parle français! We have to switch languages which is not that easy as we got very used to Spanish in the past two and a half months.
We spend our first week in French Polynesia on Mo'orea, which means 'yellow lizard'. Mo'orea is only seven kilometres northwest of Tahiti and therefore only a short flight. Unfortunately, the weather isn't as sunny as we expected it to be. People on the island are talking about taking precautions because of a cyclone expected in a few weeks from now.
Luckily, we stay in a very nice villa with a pool. The kids do some work for school and we enjoy reading and relaxing. We visit a Polynesian Cultureshow at the Tiki Village (pic. 1) and spend a great evening there. The girls have tried to do the Polynesian Dance ever since and they make quite progress. We circle the island several times with our rented car: Belvédère-Lookout, which affords splendid panoramic views of Opunohu and Cook's Bay and we visit a turtle- and dolphin station.
We wait for a perfect day for THE tour on this island - snorkeling and swimming with humpback whales! Every year humback whales come from Antarctica to French Polynesia to deliver their calves in the warm and protected waters of Tahiti. The peak season is between mid-Ausgust and the end of October. We start our tour with some snorkeling within the lagoona (pic. 2). We are able to touch sting rays while getting some information from our tour guide about these funny looking animals. On our way out to the deep blue sea, we are escorted by some curious dolphins.
Once we have passed the outer reef the boat ride gets quite bumpy. Our tour guides watch out for some signs in the water - there! There is a humpback whale - quick! Fins and goggles on, snorkel in and off we go! What we then experience has to be described as 'magical'! Deep blue water and beneath us a humpback whale turning once around its axis. Such a beautiful and peaceful moment. Far too soon, we have to return to the boat. The sea is very rough, the girls are not allowed to swim in the open sea, which is the right decision. After fifteen minutes, we see a female whale with its calf. As the sea has gotten very rough now, only the tour guide, Christian and another tourist dare to return to the open sea for a further snorkeling trip. But it's well worth the effort. Pictures you will never forget! The picture (#3) on the left is from the internet but it's exactly the way it is. Great, don't you agree?
After seven days, we fly to Bora Bora. Moorea is beautiful but Bora Bora is the pearl of the South Pacific. As we arrive by plane the view says it all: a ring of sand-edged motus (islets) encircle a glinting turquoise lagoon around soaring rainforest-covered basaltic peaks. The first European sighting was made by Jakob Rogeveen in 1722. James Cook sighted the island in 1770 and landed later that same year.
The complimentary boattransfer from the airport, which is located on a motu, to the main island is like a booked sightseeing tour. We cross the lagoon with views on Bora Bora (pic. 4) and on our way in, we are able to see our accomodation for the next seven days. We stay in a rented villa with a stunning view on the lagoon (pic. 5). The whole property once belonged to Marlon Brando. The villa is a real gem - very tastefully furnished; we feel at home immediately.
The following days, we explore the islands clock- and anticlockwise. The island with its almost 30 square kilometres is bigger than we thought. We stock up the fridge and enjoy the meals on our beautiful veranda. Sometimes we avoid cooking and get some Chinese food from the restaurant in Vaitape instead. It's cheap, delicious and also very interesting to watch the cooks preparing the meals. Don't miss it!
Most tourists stay in one of the luxury hotels on a motu. We don't want to spend our whole budget on accomodation and we are more than happy with our choice. We love the exchange with natives and we don't have many interactions with other tourists on the main island which is fine. The best public beach on Bora Bora is Matira Beach; very clean and an excellent spot to watch the sun set.
The weather isn't always as we hoped for. On one of those cloudy days, we stop at the Pearl Farm. The Pearl Farm provides the possibility to dive for your own personal pearl (pic. 6). We haven't spend much money on souvenirs so far, and we think that this is a once in a lifetime opportunity. Nessina and Maiara both dive for two strings of oysters in the lagoon and then choose one oyster out of possible three to be opened. To make a long story short. The girls are very fortunate as they dive for pearls in good quality. Well done!
We wait for the perfect day to hire a small boat to circle the island within the lagoona. It takes approximately four hours to surround the island. We aren't in a rush as we have the whole day - we have a picnic on a motu overlooking our house and Bora Bora, do some snorkeling and swimming at the best places and admire the beautiful and luxury resorts on the motus (pic. 7). We enjoy this daytrip and highly recommend renting a boat as it is quite cheap compared to other tours and - even more important - a lot of fun.
Yes, no question: Bora Bora is worth every single mile between your home and this beauty here.
We leave Bora Bora (pic. 8) on a sunny day and fly first to Raiatea and on the same day to the very close, but smaller version of Bora Bora, Maupiti. We are busy beavers: As our stopover in Raiatea lasts for 5 hours, we rent a car and explore the island clockwise; very lush and green (pic. 9). We like it! One last icecream at the harbor then we return the car and continue our travel to Maupiti.
Maupiti! - We like Moorea, love Bora Bora but in Maupiti we will lose our hearts...
Alain and his wife Nung, the owners of our accomodation, welcome us on the jetty. First, they drive us to the biggest supermarket on the island. We are surprised by the size of the market. Window shopping has become a new meaning. We tell the shop assistant our wishes through a window and some of the items are available, others not. The stock is quite limited: only two different choices of jam, Kellogg's Cornflakes only, one kind of cheese: cheddar and so on. It's different as in Bora Bora and we like it right away! (pic. 10)
We have an outstanding accomodation. One of only two bungalows right on beautiful Terei'a Beach. White sands, some palm trees and a beautiful view on the motu opposite. The picture (#11) is taken from the veranda. We can walk accross the lagoon to the motu. The water is shallow but only a few metres to the right there is a small reef for snorkeling. Everything is provided by Alain and Nung: bicycles, canoes, fins, snorkeling and surfing gear even harpoons. Instead of catching fish ourselves, we appreciate Alain's offer to organise fresh tuna from a local fisherman. Nung shows us the best way to prepare it - some sesame oil, ginger, capsicum and lime. What a nice gesture and it tastes heavenly.
Alain an Nung are great hosts. One day, Nung takes us and the Finnish couple from the other bungalow - Mika and Paulina - out on the reef for collecting some clams. We eat them right out in the reef with some lime and chilli and standing in the water - delicious and never tasted so fresh.
As the supplyboat for Maupiti hasn't arrived on time, we aren't able to get fresh drinking water, either. We start brewing tea and drinking fresh coconutmilk from the coconuts found around the house. We also start baking our own bread and collecting the passion fruits behind the house. We really like this way of living a lot and the only clothes we need these days are our bathers.
The seven days are over far too soon. For us, THIS is the true and ultimate paradise. We are so grateful to the people of Maupiti that they have voted to keep it that way by banning the construction of any major hotel in a referendum some years ago. 
We spend two nights in Papeete as there is only once a week a flight to Rarotonga - our next destination.
Au revoir Tahiti!